Apprenticeship Training
Local Apprenticeship Program
Use the map below to find your local chapters.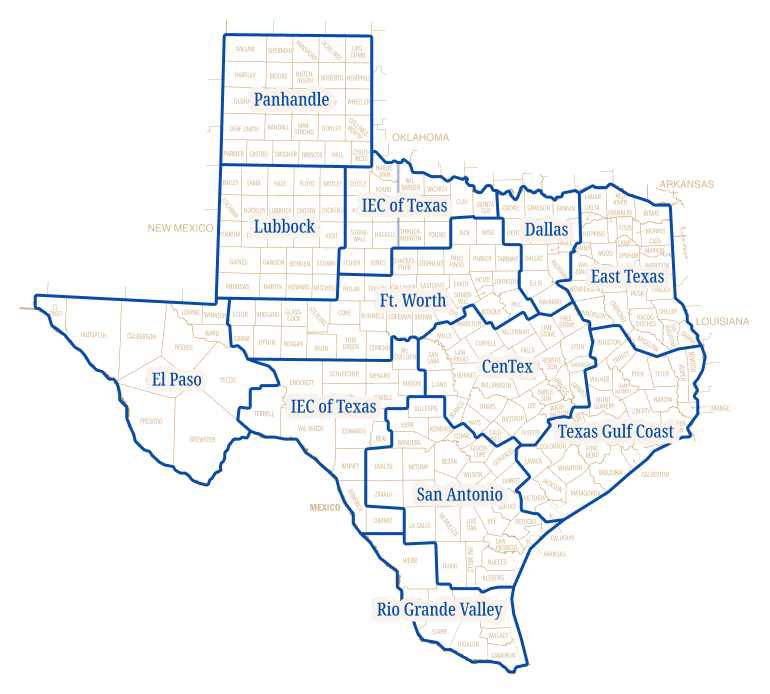 Why Electrical?
A career in the electrical industry is one of the most in-demand in America. Becoming an electrical professional gives YOU the opportunity to work with your hands, encounter versatile and challenging task and enjoy high compensation and job security.
Now is the time to launch your career in the electrical industry. There is a lifetime of career opportunities for YOU in this high demand and skilled profession.
What are the benefits?
Electricians are highly-skilled and significantly compensated for their unique knowledge and abilities. According to the Bureau of Labor Statistics, the median hourly earnings of a trained and qualified electrician, in 2014 was $24.57, with the top 10% earning more than $41.15 per hour including benefits.
Typically a registered apprentice will start at 50 percent of the rate paid to an experienced (Journeyman) electrician. The IEC Apprenticeship program wage progression allows for increases at certain intervals making it possible for the apprentice, in most cases, to double their earnings during their training.
IEC Graduates who want to continue their education have a head start on a college degree. The IEC program provides up to 40 college credit hours. This equates to $30,000 of college education, using the average tuition cost currently in the US.
IEC Electrical Apprenticeship Education in Texas
Enroll in a Texas IEC apprentice training program and Earn While You Learn! IEC's programs are regarded as among the best in the industry; and are recognized by the U.S. Department of Labor.
IEC Apprentice Training Programs combine the on-the-job training and formal related technical instruction you need to prepare you for this high-demand field. This means you get paid to work while you receive a top-notch education in the electrical field.
With nine IEC Chapters in Texas, providing training to apprentices each year in the classroom and online, the choice is yours of where and how you would like to attend.
Our four-year apprenticeship program will allow participants to gain the knowledge, technical skills, and practical experience necessary to succeed in today's electrical trade and competitive construction industry market.
Why Is The IEC Program So Successful?
We are Commitment to deliver the Highest Quality of Education
Extremely Qualified Subject Matter Expert Electrician Teaching Teams
Dynamic Resource Materials
Product Training and Support from Major Equipment Manufacturers
At least 144 hours of classroom training per year with lectures, demonstrations, labs and homework, and a comprehensive final that must be passed prior to graduating to the next training level
Supervised 2,000 hours of on-the-job learning per year
Progressively increasing wage schedule.
IEC Apprenticeship Oversight Committee monitored program and administered by our local IEC offices statewide
The IEC Certified Chapters apprenticeship program is evaluated by the American Council on Education (ACE) annually and awards (37) college credit hours equivalency.
How Do I Get Started?
While specific requirements vary by each local training program, applicants for apprentice positions must:
Be at least 18 years of age or older.
Have earned a high school diploma or equivalent.
Be capable of performing the physical and mental essential functions of apprenticeship.
Be a U.S. Citizen or lawful Resident Alien.
Be registered for U.S. Selective Service.
Each applicant for apprenticeship will be interviewed by the local Apprenticeship Committee representatives before entry into the program. The following may not be required but is very helpful:
Previous education or training in the electrical trade.
High school courses in mathematics, physics, electricity and shop.
Special training offered in the U.S. Armed Forces or postsecondary technical schools.
The nature of the job demands that an electrician be in good physical condition and tolerant of working in varied climatic conditions such as heat, cold, rain, and snow. Other environmental factors include exposure to heights using ladders and scaffolds and lifting and moving heavy objects. Other factors listed below may be considered by the committee for entry into the program:
Your employability skills.
Reliable source of transportation to school and to the job site.
Ability to work independently and as a member of a team.
How do I Apply?
The application process varies by location in Texas, so this is a general scenario.
Complete an application at your local IEC chapter office - check with a local chapter for times and locations. Find your local chapter on the map above.
Pay a nominal application fee of $50. (Applicability and fees vary by location).
Work for an IEC contractor or if you are seeking a job, speak with the chapter office about employment application or placement with a member contractor.
Present the IEC with a form of identification such as a Driver's License or State or Federal issued ID card.
Provide the IEC with a copy of your high school diploma or GED.
Take a math assessment test (varies by location).
Obtain a current Texas Apprentice Electrician License upon acceptance and prior to employment into the apprenticeship program.
If a Military Veteran, provide the IEC with a copy of your separation document DD214.
If a Resident Alien, provide the IEC with a copy of your Green Card or U.S. CIS employment eligibility documents.
Attend an interview and program orientation.
Title 29 Equal Opportunity Pledge
Apprenticeship is open to all applicants who meet the enrollment requirements outlined in the IEC Standards of Apprenticeship without regard to race, creed, national origin or gender.
How Much Does it Cost?
Though not guaranteed, in many cases, employers pay for all or part of your training program and textbooks – plus you get paid to work full-time as an apprentice with an IEC Contractor.
The program cost per apprentice varies by location but is typically $1,000 - $1,500 tuition per year plus $300 - $500 book package depending on the training year.
Electrical Apprentice Training, What You Will Learn!
While state and local requirements determine the exact duration of training, during a four- to five-year period, an apprentice electrician will receive at least 8,000 hours of paid on-the-job learning and a minimum of 576 hours of related technical instruction covering topics such as:
First Year
First Aid, CPR, AED and Jobsite Safety
Electrical Fundamentals and Basic Electrical Theory
Essential National Electrical Code Rules and Wiring Methods
Care and Use of Hand and Power Operated Tools
Conduit Bending and other Mechanical Skills
Second Year
Electrical Safety and Personal Protective Equipment
Advanced Electrical Theory - Alternating Current
National Electrical Code Calculations
Transformers, Generators and Motors
Third Year
Blueprint Reading and Electrical Symbols
National Electrical Code: Grounding and Bonding
Motor Control Components and Diagrams
Motor Control Circuitry and Labs
Fourth Year
Advanced Motor Controls
National Electrical Code Requirements and Calculations
Electrical System Design and Troubleshooting
Special Systems and Equipment